We're incredibly proud of our awards and consistently strive to secure designations which demonstrate our commitment to exceptional client outcomes.
2020 Chartered Financial Planner of the Year – Finalist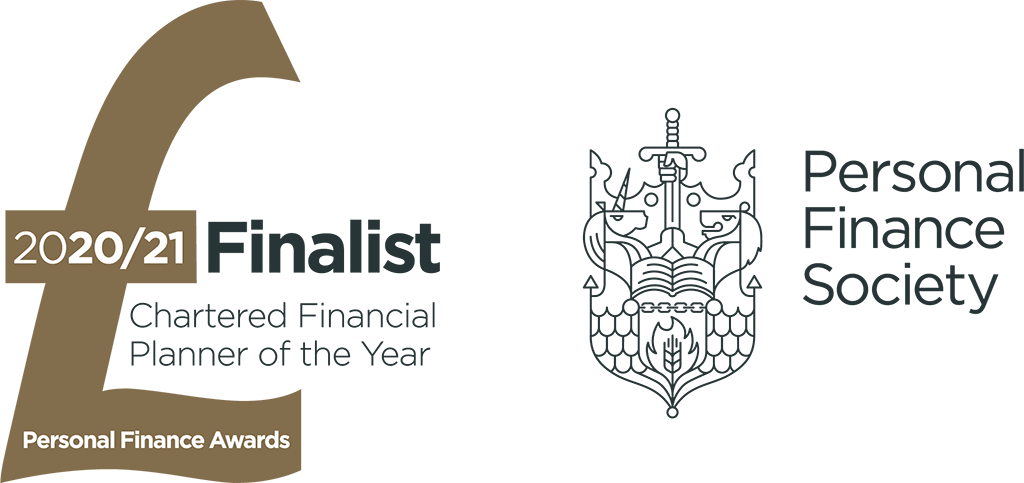 Andrew has been very proud and delighted to get through to the last round of the flagship award of the Chartered Financial Planner of the Year award 2020 at the Personal Finance Society Awards 2020
Pension Transfer Gold Standard
Financial advice firms who adopt and promote this standard adhere to a set of principles. As a result you can be confident that you are dealing with an ethical adviser and professional advice firm that has your best interests at heart when receiving financial advice in relation to whether or not you should transfer your pension.
Read more about the Pension Transfer Gold Standard.
2021 Adviser Firm of the Year – North West (Finalist)
Personal Financial Society Associate Firm
As an Associate Firm of the Personal Finance Society, we adopt the professional standards and code of ethics set by the Personal Finance Society and believe in an inclusive united culture which places clients and staff at its heart.
Our culture is guided by these eight core principles:
Act in the best interests of clients, using a customer charter to aid transparency
Demonstrate integrity, probity and fairness by aligning with the code of professional ethics and conduct
Comply with the spirit as well as rules of regulation
Comply with the spirit as well as the rules of employment law
Invest in our people by funding a policy of ongoing training & professional development
Operate a clear diversity & inclusion policy, for both our staff and clients
Operate a policy of corporate social responsibility
Adhere to transparent governance standards and processes.
SOLLA Retirement
Depledge are SOLLA Retirement Advice Standard holders. Achieving the Later Life Adviser Accreditation (LLAA) and becoming a member of the Society is an endorsement of skills and experience in working with, and understanding the needs of, older people and their families and carers. It is widely recognised as the Gold Standard in later life financial advice.
Standards Certifications
As part of our continued drive for the best possible standards in delivering for our clients, we are now BS 8577 and ISO 2222 certified.
On attaining certification the reviewer noted
"Congratulations to the team at Depledge Strategic Wealth Management on joining the elite group of businesses in the UK who are demonstrating excellence by achieving the British Standard BS 8577. Echoing the words in their assessment report, they should all be very proud of what they have built!"

BS 8577 Reviewer
New Model Adviser Top 100
We are delighted to have been included in this prestigious list of firms for the sixth year running in 2020.
New Model Adviser magazine is dedicated to helping financial planning professionals in their personal and business development. Each year, the magazine produces a list of the top 100 independent financial advisers, which considers the following elements: the firm's profitability, recurring income, qualifications and commitment to the profession. The methodology is discussed and approved by the independent actuarial firm AKG.
Andrew Day, our Director and Chartered Financial Planner, commented that: "Our inclusion in this well-established list is great recognition of the hard work and dedication that every member of our team is making to deliver a first-class service to our clients".
Read the New Model Adviser® Adviser Profile on Andrew Day by clicking here.
Top-Rated Adviser
Our verified reviews on Vouchedfor (a leading review site for financial advisers) recognise Depledge Strategic Wealth Management as a Top-Rated Adviser.
After a break in 2017 and 2018 when Vouchedfor broke from issuing the award to any firms, we're delighted that our clients continue to rate us when the award was introduced in 2019.
Money Marketing Small Advice Firm of the Year • Finalist
Depledge SWM was shortlisted for the Money Marketing Awards 2020 Small Advice Firm of the Year.
FSB Awards Micro Business of the Year Finalist
We're delighted to be shortlisted for the FSB Celebrating Small Business Awards. Depledge Strategic Wealth Management was a finalist in the Micro Business of the Year category.
Greater Manchester Business Awards Business of the Year • Finalist
Depledge SWM are one of 4 nominees for the Business of the Year award with results announced on 4th September 2020.
Awards and Accolades
Chartered Financial Planners
Pension Transfer Gold Standard
Society of Later Life Advisers Associate
Personal Finance Society Associate Firm
2021 Professional Adviser, Adviser Firm of the Year – North West (Finalist)
FSB 2020 Micro Business of the Year Finalist
BS 8577 Framework for the Provision of Financial Advice & Planning Services
BS ISO 22222 Personal Financial Planning
Top 100 Adviser • New Model Adviser® 2020
Top 100 Adviser • New Model Adviser® 2019
Top 100 Adviser • New Model Adviser® 2018
Top 100 Adviser • New Model Adviser® 2017
Top 100 Adviser • New Model Adviser® 2016
Top 100 Adviser • New Model Adviser® 2015
Top Rated Adviser • VouchedFor 2019
Top Rated Adviser • VouchedFor 2016
Top Rated Adviser • VouchedFor 2015
Top Rated Adviser • VouchedFor 2014
Money Marketing • Small Advice Firm of the Year, Finalist
Greater Manchester Business Awards • Business of the Year, Finalist
Shortlisted • New Model Adviser North Region Adviser Award 2015